Inquiry by phone call

+813-3833-7200
Access
To Narita Airport in 41 mins, Also near by a lot JR station and Subway station.
Smooth access and good location.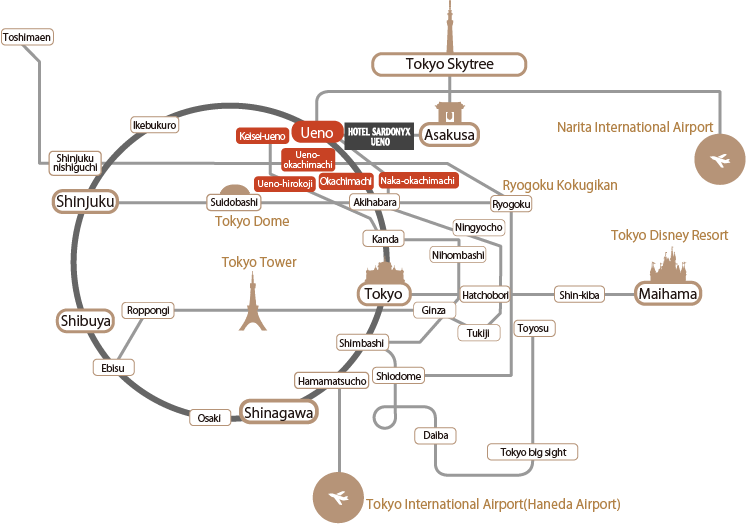 Narita Airport

[Keisei ueno station]→SKY LINER →Narita Airport 41 mins

Haneda Airport

JR Yamanote line[Okachimachi station (JY04)] →Hamamatsucho station(JY28) 13mins

TOKYO Disney Resort

Subway Hibiya line [Naka Okachimachi station (H16)]→Hatchobori station(H11)9mins→(transfer)JR Keiyo Line(JE02)→Maihama station (JE07)14mins

ASAKUSA

Subway Ginza line [Ueno station (G16)]→Asakusa station(G19)5mins

TOKYO SKY TREE

Subway Ginza line [Ueno Hirokoji station (G15)]→Asakusa station(G19)→(transfer)Tokyo skytree line→TOKYO SKY TREE(TS02)3mins

TOKYO DOME

Subway Oedo Line[Ueno Okachimachi station(E09)]→Kasuga station(E07)5mins
By trains
JR Ueno Station , 7mins from Hirokoji Exit
JR Okachimachi Station , 3mins from North Exit
Subway Hibiya Line Nakaokachimachi station , 1min From A8 Exit
Keisei Ueno Station , 10 mins from Main Exit
From JR Ueno Station
Proceed to chu-ou gate (Main-Gate) and go to Hirokoji Exit.
Across the crosswalk and turn left hand side. (You'll see "OIOI" department store on right hand side.)
Go along the road turn right hand side, follow "Showa street" for about 350 meters, you will see our Hotel on right hand side.
From JR Okachimachi station
Proceed to get out North Exit and go right hand side.
When you see closswalk, turn left, keep along showa street about 120meters, you will see our Hotel on left hand side.
From Subway Station(Hibiya Line, Oedo Line, Ginza line )
Get off each station Hibiya Line・Nakaokachimachi Station /Oedo Line ・Ueno Okachimachi Station /Ginza Line ・Ueno Hiroko-ji Station, and go to A8 exit.
From A8 exit, Walk same direction with car, about 80 meters, you can see our Hotel on left hand side.
From Keisei ueno Station
Procced to Main Exit, and go to grand floor.
Accross the crosswalk facing YODOBASHI CAMERA(Electric store) and turn left at "ABAB" department store.
Go straight though Ameyoko Market and under railway till face showa street.
Turn right at the corner, you will see our Hotel on right hand side.
【Price】

| Busines hour | Price | Payment |
| --- | --- | --- |
| 7:00pm to 9:00am | JPY 1050 /1 night | Pay at Front Desk when you arrive. |
| Exept time from the above | JPY 300 / 25 minutes | Pay at a car parking |
【Notice】
Limited car size for Tower car parking capable car size bellow,
Length 4.9m , width 1.85m , hight 1.6m only.
Not possible to move your car 11pm to 8am.
No reservation for carpark.